RAC Arena celebrates 10 years of creating memorable experiences
RAC Arena, Western Australia's premier indoor sport and entertainment venue, turns 10. Since 2012 the venue has entertained over 6 million fans.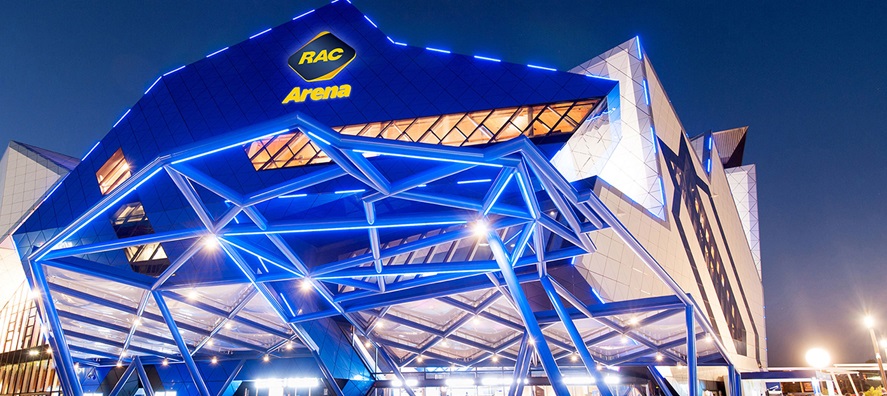 Western Australia's premier indoor sport and entertainment venue turns 10
Seven major sport and entertainment events will be held during its anniversary month
Over 6 million patrons have been entertained at RAC Arena since 2012
Since Sir Elton John performed the inaugural event at the venue in November 2012, RAC Arena has welcomed internationally renowned artists and the world's best sports stars.

Owned by VenuesWest on behalf of the State Government and managed by ASM Global, the venue is Perth's premier indoor sport and entertainment venue.

Over six million patrons have enjoyed 724 events in the venue's first 10 years.

RAC Arena has hosted 228 concerts, 168 shows and 328 world class sporting events.

The world's biggest artists have performed at RAC Arena, including Ed Sheeran, Bruce Springsteen, Kiss, Neil Diamond, Pink, Robbie Williams, Beyonce, Kylie Minogue, Sir Elton John, Michael Buble, The Rolling Stones, Prince, Phil Collins, Hugh Jackman, Billie Eilish, Midnight Oil and The Wiggles.

The annual Hopman Cup saw some of the best tennis players compete for their country including Roger Federer, Serena Williams and Novak Djokovic, Rafael Nadal played in the ATP Cup, the Australian Diamonds beat New Zealand to bring home the Constellation Cup, while the Perth Wildcats have won 5 championships since calling 'The Jungle' home and West Coast Fever claimed their inaugural Suncorp Super Netball League premiership earlier this year.

As of this year, RAC Arena is also proudly the new home of Telethon and the Family Fun Festival.

RAC Arena has received worldwide recognition in prestigious industry awards, including continually ranking highly in Pollstar and Billboard charts for a venue of its size.

A month-long celebration for fans is underway with 'Memory Lane', a curated exhibition of 20 iconic event photos open until the end of the year and special birthday treats for the first 100 fans through the door at each event during November.
Comments attributed to Sport and Recreation Minister David Templeman:

"RAC Arena is a true-blue Western Australian icon, putting Perth firmly on the map as a world class sport and entertainment destination.

"Live events create lasting memories, and RAC Arena has created countless magical experiences for the people of Western Australia.

"RAC Arena is renowned globally as a world class venue for its size and attracts thousands of interstate and international visitors every year."