Ed Sheeran to hit a high note in largest ever WA concert
More than 70,000 fans expected to attend the final leg of Ed Sheeran's Mathematics tour at Optus Stadium on 12 March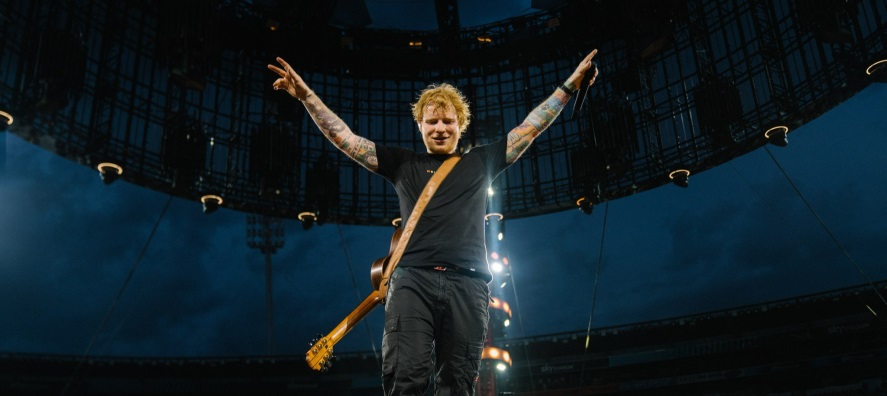 More than 70,000 fans expected to attend the final leg of Ed Sheeran's Mathematics tour at Optus Stadium on 12 March
Fans urged to plan ahead, arrive early and use public transport to the venue, included in every event ticket for three hours before and after the concert
Event expected to set a new attendance record for Optus Stadium

Global music sensation Ed Sheeran is expected to set a new attendance record when he takes to the stage at Optus Stadium this weekend.
More than 70,000 fans are expected to turn out for the English pop sensation's third concert at the venue, delivering his final show in Australia as part of the + - = ÷ x tour (also known as the Mathematics Tour).
Every ticket to the event includes public transport and fans are being urged to use the network to get to the venue.

An additional 700 bus and train services will be put on to get people to and from Optus Stadium, while around 400 extra Public Transport Authority (PTA) staff will be rostered on to support the event including train and bus drivers, and transit guards.

Fans are being advised to avoid driving with road closures in place around the venue. There will be no drop-offs allowed in and around the stadium, as is standard on major event days.

Fans are also encouraged to download their concert tickets to the wallet on their smartphone to ensure entry is as smooth as possible. With high quality support acts, fans are urged to get to the stadium early.

More than 1700 staff will work the event, where some 7,000 soft drinks will be served, about 18,000 serves of chips sold and more than 6000 burgers, pies, salads and sushi consumed.

Fans are reminded that ticket scalping is illegal in Western Australia after legislation introduced by the McGowan Government passed State Parliament, delivering on an election commitment. Re-selling of concert and event tickets is now restricted to a maximum 10 per cent mark-up from the original price.

Fans can plan their journey by visiting the Transperth website.
Comments attributed to Culture and the Arts Minister David Templeman:
"The Ed Sheeran concert will cap off a massive few days for the arts in Western Australia, with concerts by Rod Stewart and Cyndi Lauper, and Bjork taking place over the weekend.
"Western Australia is really bringing it home for the fans at the moment, with this event expected to set an attendance record for Optus Stadium, shortly after UFC 284 set a new record for RAC Arena.
"With a host of major sporting events on the horizon, there doesn't seem to be an end in sight for showcasing our magnificent State."
Comments attributed to Transport Minister Rita Saffioti:
"This promises to be one of the biggest shows Perth has ever seen, and with public transport included with every ticket, we're encouraging everyone to jump on the bus or train to get to and from Optus Stadium on concert day.
"To make sure we get everyone to and from the event safely, an additional 700 bus and train services will be put on, along with around 400 extra PTA staff.
"We recommend every fan attending this historic and exciting event plans ahead and looks at what public transport option is best for them.
"The people of Perth will come out in their tens of thousands, continuing to prove that the city is a hot destination for major, record-breaking events."