WA ready to rumble with exclusive WWE Premium Live Event
Western Australia will become the wrestling capital of the world on Saturday, 24 February 2024 as World Wrestling Entertainment (WWE) descends on Perth, in a first ever for an exclusive globally-televised Premium Live Event at Optus Stadium.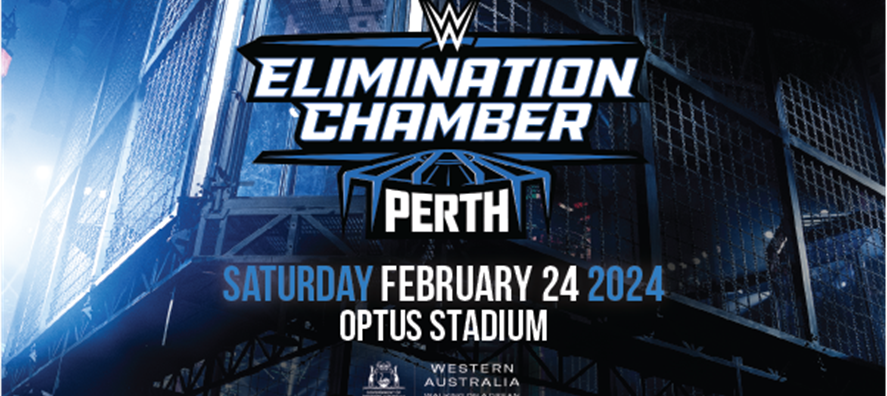 WA Government secures international wrestling event - a WA first and the only WWE Premium Live Event in Asia-Pacific next year
WWE coming to WA and will appear at a range of feature and pop-up events in the lead up to the live event at Optus Stadium on Saturday, 24 February 2024
Blockbuster wrestling matches will be broadcast live to up to one billion homes worldwide, with potential to attract thousands of out-of-state visitors and generate millions for WA economy as a major jobs booster
Thousands of Western Australians and out-of-state visitors are expected to flock to Optus Stadium to see the world's most famous WWE superstars take part in a Premium Live Event, which will also be beamed across the globe to up to one billion households.
WWE Superstars will be available for a range of appearances, and meet fans through a series of community-focused activations and celebrations in Perth, in the days leading up to the event.
It will be the first time a WWE Premium Live Event has been held in WA, and only the second time the worldwide phenomenon has hosted a televised Premium Live Event in Australia.
The exclusive Perth stadium show will be the only WWE Premium Live Event held anywhere in Australia or the Asia-Pacific next year, and will help to bolster the Cook Government's vision to make WA the fastest growing events destination in the South East Asian region.
Thousands of out-of-state fans are expected to travel to Perth to witness their favourite WWE Superstars live, generating millions of dollars in visitor spend and providing a boost to local hospitality, accommodation and tourism businesses.
Hosting WWE will highlight WA on a global stage, with the brand's WWE Superstars showcasing their Perth tourism experiences to their collective social media audience of more than one billion followers.
The event will be broadcast live to WWE's extensive audience, including 180 countries in more than 25 languages, and available in more than one billion homes.
The announcement adds to the growing list of blockbuster events the Cook Labor Government has recently secured and hosted including the Australian-exclusive Coldplay concerts and Matildas Olympic Qualifier matches, plus sporting spectaculars like the FIFA Women's World Cup, Tottenham vs West Ham match, and the State of Origin series.
Fans across the globe interested in an exclusive presale opportunity can register now at wwe.com/PreSale. Travel packages will be available through sportsnetholidays.com/wwe-elimination-chamber-perth and On Location Priority Passes can be purchased at WWE Elimination Chamber: Perth Tickets | Official Ticket & Hotel Travel Packages (onlocationexp.com).
Comments attributed to Premier Roger Cook:
"Securing this exclusive WWE whopping blockbuster event to Western Australia will put our State on the world stage.
"It's exclusive major events like these that attract people to Western Australia, and set us apart from any other city or town in the country or indeed the Asia Pacific.
"The WWE stadium spectacle will drive visitors to Western Australia from right around the world, inject millions into the economy and showcase our State on the global stage.
"We know the UFC 284 event held in Perth this year was a winner for WA, attracting thousands of visitors and breaking attendance and revenue records, and we expect WWE will be just as successful as we host it for the first time here next year.
"Not only will we have top international WWE superstars making their way Down Under to WA, we will also provide a major platform for our local champs including Australia's own product - Rhea Ripley.
"WWE is an incredible get for Western Australia and I'm pleased my Government's ongoing advocacy, and the work of everyone involved in securing this major sport entertainment has come to fruition and in a very short period of time. This is testament to Western Australia's capacity and recognition as a global leader in hosting major world-class events."
Comments attributed to Tourism Minister Rita Saffioti:
"Hosting WWE in Perth is a massive coup for Western Australia and provides us with a once-in-a-lifetime opportunity to showcase our beautiful State to a billion households across the globe and put it firmly on the world map as an events destination.
"Importantly, it will also provide huge benefits for locals, by pumping millions of dollars into our economy and providing a massive boost to our hospitality, tourism and accommodation sectors.
"This is an incredible achievement, and we're so excited to have secured this Australian exclusive, which will be the only place across the country and the wider Asian region to host such an event in 2024.
"We make no secret of our ambition to become the fastest growing events destination in the South East Asian region, and this announcement only adds to our increasing list of credentials in landing and delivering these major blockbuster events.
"We've hosted the UFC, two years of the English Premier League, an NRL double-header, State of Origin, FIFA Women's World Cup matches and will soon have the Matildas back in Perth in an exclusive three-match series, plus Australian-exclusive Coldplay concerts, so we've well and truly become an interstate and global event hotspot."
Comments attributed to Sport and Recreation Minister David Templeman:
"WWE is an iconic and well-loved sports entertainment behemoth that boasts more than a billion fans from all around the globe and of all different ages.
"Securing such a prominent event will highlight how spectacular our major sporting infrastructure really is.
"We expect this to be a sell-out event at Optus Stadium and I'm excited for fans to enjoy this awesome spectacle live in Perth."