WA kicks off week of elite international football with ICON festival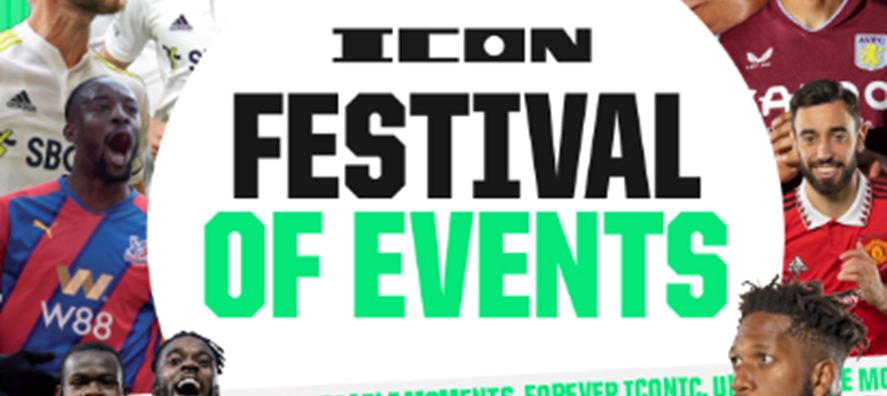 WA welcomes four superstar English Premier League teams as part of this weekend's ICON: Perth's Festival of International Football at Optus Stadium
Aston Villa, Crystal Palace, Leeds United and Manchester United first teams all arriving in Perth this week to participate in two blockbuster matches at the weekend
Pre-match celebrations start today with Leeds United open training session in Fremantle, followed by Manchester United training session on Thursday at the WACA
Festival of football in WA represents a boost to local businesses and jobs
The biggest festival of English Premier League football ever seen in Western Australia kicks off today with three days of celebration in the lead up to this weekend's blockbuster matches.
Premier Mark McGowan welcomed the first team to arrive this morning, Leeds United, which has been enthusiastically adopted by the people of Fremantle as part of the 'More than a Match' program to spread the festival atmosphere across Perth all week.
The matches are expected to attract thousands of interstate and international visitors, support local jobs and businesses, and see millions of dollars generated for the WA economy, as well as generate extensive global media coverage and publicity for the State.
Almost 100,000 spectators will descend on Optus Stadium over two huge nights to witness Crystal Palace play Leeds United on Friday July 22, followed by Aston Villa versus Manchester United on Saturday July 23 for ICON: Perth's Festival of International Football.
The festival is supported by the McGowan Government in partnership with VenuesLive, VenuesWest, Left Field Sports and TEG Sport.
The matches will be played at the award-winning Optus Stadium, which was recently named Venue of the Year at the internationally acclaimed TheStadiumBusiness Awards in Manchester, United Kingdom.
Ahead of the games, fans can get up close and personal with their football heroes via a series of 'More than a Match' festivities throughout Perth, including at open training sessions, pre-match parties and 'Meet the Legends' events.
Pre-match celebrations kick off in Fremantle today, with a free entry to the Leeds United open training session from 3.30pm.
Fremantle's café strip has been adorned in Leeds United's blue, white and yellow colour scheme, ahead of the team's pre-match party at Gage Roads in Fremantle on Friday afternoon.
The ticketed Manchester United open training session, to be held at the WACA this Thursday, has already sold out. Proceeds from this training session are being donated to Telethon.
Earlier this week, the Aston Villa Foundation supported the launch of the WA Blind Football League for vision impaired players at Perth Soccer Club, followed by a series of grassroots football clinics with Football West.
Crystal Palace will meet fans at their own pre-match party at the Leederville Hotel, with Aston Villa to do the same at Raffles Hotel, while PICA Bar in Northbridge will host Manchester United.
Manchester United and Crystal Palace legends will also participate in a friendly penalty shoot-out demonstration at Elizabeth Quay, including a floating goal and local junior soccer players.
Players from all four teams will also participate in a range of Tourism WA-hosted activities during their stay, which will showcase Perth's unique tourism offerings to the teams' significant social media audience.
ICON: Perth's Festival of International Football has been funded through the Reconnect WA package, which provided funding in the 2022/23 financial year to secure blockbuster events for Perth.
Supporting major events like ICON is part of Tourism WA's strategy to attract more visitors to the State and into Perth to boost hotel occupancy, support for local businesses and tourism operators, and to activate Optus Stadium.

The festival caps off an unprecedented month of elite major event sports in Perth, with:
more than 59,000 fans and 3.1 million TV viewers watched the State of Origin between New South Wales and Queensland at Optus Stadium;
the Rugby Union International between the Wallabies v England at Optus Stadium attracted the biggest crowd of the three matches played in Australia; and
the unforgettable sold-out Super Netball Grand Final at RAC Arena being won by the West Coast Fever for the first time.
Full details of all 'More than a Match' events are available at www.iconperth.com.au
Comments attributed to Premier Mark McGowan:
"Western Australia will be the home of the world game this weekend.
"I'm pleased the State Government and its partners have continued to secure major sporting events like these, which are a big component of our Reconnect WA strategy.
"I'd like to thank those who have worked on delivering this and for all their efforts as we welcome players, teams, visitors and fans to WA.
"It is truly an international sport, with an estimated 250 million players worldwide and fan numbers in the billions.
"To be the only jurisdiction to have four immensely popular international football teams fly in for two matches at Optus Stadium, this time around, is about as big as it gets in terms of blockbuster sporting events, and thousands of visitors have already come over to Perth from out-of-State to witness this unmissable event.
"More visitors in our State means more hotel rooms are filled and more dollars are spent in restaurants, bars, cafes and local businesses, which is a huge benefit to our local economy as people use their football-focused visit as a reason to stay longer and explore Western Australia further."
Comments attributed to Tourism Minister Roger Cook:
"Like most ticket holders, I can't wait to see the highest calibre of international football on display at our very own world-class Optus Stadium.
"Perth has been the major sporting events capital of Australia this year.
"I'm delighted that ICON: Perth's Festival of International Football is finally here, and we have the opportunity to welcome these outstanding English Premier League teams to our State.
"The festival caps off the most extraordinary month of elite major sport we have ever seen in Western Australia.
"ICON is yet another major drawcard in what has been a stellar line-up of extraordinary winter sports events in WA, which has driven thousands of visitors to our city and showcased our beautiful State to hundreds of thousands of sports fans around the world."
Comments attributed to Acting Sport and Recreation Minister Simone McGurk:
"This festival of football will be a massive spectacle that will inspire many children and young people, some of whom may go on to play at the elite level themselves.
"It is a fantastic event for the development of the game and will showcase our magnificent stadium to the world."