OPTUS STADIUM CELEBRATES FIVE YEARS
Optus Stadium will mark its five-year anniversary this weekend, continuing to cement its reputation as the best stadium in the country.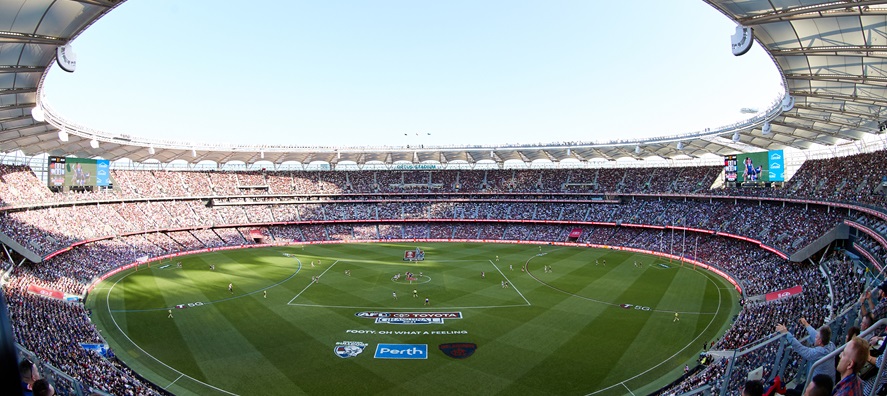 • Saturday 21 January marks five years since multi-award-winning Optus Stadium opened its doors.
• The venue has hosted more than 180 major events, 6,435 tours and more than 2000 Meetings & Special Events, with more than 6.7million fans entering the venue on event days and many more enjoying the parklands every day.
• A special competition is now underway to find the Stadium's Number One Fan to take home a 2023 Golden Ticket
Optus Stadium will mark its five-year anniversary this weekend, continuing to cement its reputation as the best stadium in the country.
The venue, which opened on 21 January 2018 has taken out 59 awards since opening – from being recognised as the World's Most Beautiful Stadium (UNESCO's Prix Versailles) in 2019 to being named Venue of the Year at the global Stadium Business Awards in Manchester in 2022.
The facility is owned by VenuesWest on behalf of the state government and is WA's largest singular destination for sport and entertainment. The commitment to a 'fans first' stadium resulted in an innovative design that makes it compatible to host a range of major sporting and entertainment events The venue has welcomed more than 6.7million fans since opening its doors, with guests attending more than 180 AFL, cricket, rugby union, rugby league, soccer and concert events in the five years.
In its first five years of operation, Optus Stadium has hosted some of the world's most popular musicians and some amazing sporting contests, including the 2021 AFL Grand Final.
To celebrate, Optus Stadium is searching for its Number One Fan to take home a Golden Ticket for 2023 – a double pass to every event at the stadium this year. Entrants to the competition can visit www.optusstadium.com.au to enter to win this incredible prize.
Since 2018, more than 3.77million litres of Western Australian brewer Gage Roads' beer has been poured, washing down almost 700,000 pies and pastries, along with more than 2 million servings of chips.
Operator VenuesLive has employed and trained more than 11,000 casual hospitality event day staff who have worked more than 280,000 shifts over the five years, with a myriad of other operators and hirers also engaged in the stadium environment delivering incredible events to the Burswood Peninsula.
Stadium Park has also played host to 29 outdoor events including the recent Wildlands music festival, annual Christmas Festivals and Telethon Kids Festival in 2021.
Stadium Karts – another innovation developed since the opening in 2018 – will begin operating next week, with places still available for speed demons to hit the track at speeds of up to 70km per hour.
The OZONE is home to the Stadium's Behind the Scenes Tours, Indigenous Cultural Tours and the HALO and VERTIGO rooftop experiences, which has already been enjoyed by 118,000 locals and tourists alike.
Comments attributed to Sport and Recreation Minister David Templeman:
"There is no doubt that Optus Stadium has been a runaway success and it has a recognised global reputation as the best venue in Australia (as winner of the AUStadiums award two-years running) and now internationally with the Venue of the Year award in 2022.
"The success of the stadium is testament to the planning and design for the Stadium, surrounding Stadium Park and the public transport solution. The venue has proven its capacity to attract the highest calibre of events to WA in its first five years and is set to continue."
"Everyone including fans and sports stars as well as entertainers, support staff, broadcasters, suppliers, security and food and beverage staff and other stakeholders such as the Burswood Park Authority, Tennis West and Town of Victoria Park play an incredibly important role in making our stadium what it is today."