NRL returns to Perth with Double Header tickets going on sale
Tickets to the blockbuster NRL event are on sale from Wednesday this week, with the NRL Double Header to be played at Optus Stadium on 5 August.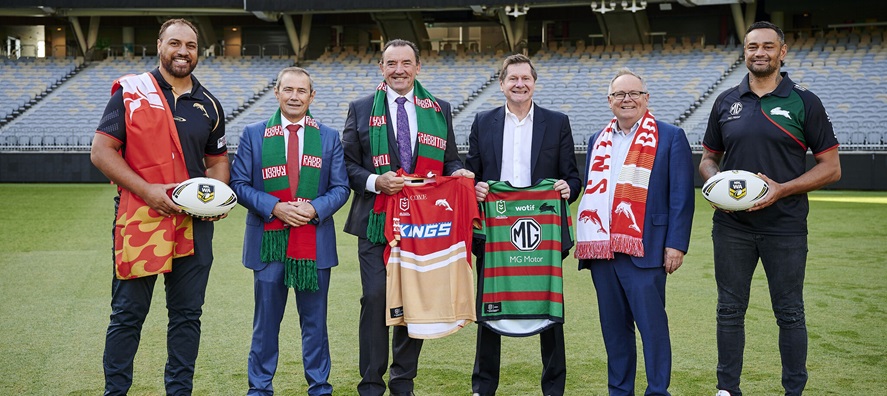 Tickets to blockbuster NRL event on sale from Wednesday this week
NRL Double Header to be played at Optus Stadium on 5 August
South Sydney Rabbitohs, Cronulla Sharks, Newcastle Knights and Queensland's new team The Dolphins in action

Tickets to Perth's huge National Rugby League (NRL) Double Header will go on sale this week.
As part of their inaugural season, Queensland's Dolphins will take on the Newcastle Knights before the South Sydney Rabbitohs face the Cronulla Sharks.
Both games will be played back-to-back on 5 August 2023 at the award-winning Optus Stadium.
One ticket will secure access to both games.
The Double Header is expected to drive thousands of interstate visitors to WA, with NRL travelling fans injecting investment into the state's economy through spending in hospitality and tourism businesses.
Existing club members will have the opportunity to buy tickets first, from 10am Wednesday 19 April, with general public tickets on sale via the Optus Stadium website or Ticketmaster from 10am Friday 21 April.
For more information on the Double Header visit nrl.com.
Comments attributed to Deputy Premier and Tourism Minister Roger Cook:
"Western Australia has proved to be popular place for the National Rugby League.
"Last year's 2022 State of Origin saw nearly 7,000 out-of-state visitors travel to WA for the match and spend more than $13.3 million in the WA economy.
"So we're excited to welcome rugby league back to our State once again. It's going to huge day at the stadium but we know visiting fans will also take the opportunity to explore Perth and parts of WA.
"Bringing major sporting, cultural and arts events to the State are all part of the McGowan Government and Tourism WA's strategy to drive tourism to Western Australia for the economic benefit of Western Australians."
Comments attributed to Sport and Recreation Minister David Templeman:
"This is a fantastic opportunity for locals and tourists alike to get out and take in some incredible action at Optus Stadium.
"We know there are a huge number of local fans of NRL and we would urge every one of them to turn out in support of the newest team to the competition, the Dolphins.
"Hosting this NRL double header gives young up and coming Perth players the opportunity to see their sporting idols live."